Lee Friedlander: Jazz Portraits


In the 1950s, Lee Friedlander became a photographer for Atlantic Records and produced many renowned album covers. We are featuring jazz portraits from his new book, American Musicians.
Mr. Friedlander is considered one of the most important photographers of the current era. He has authored 17 books in the last 32 years, and his photographs are in many of the world's major museum collections.
He was born in 1934 in Washington State. He studied at the Art Center in Los Angeles, and besides the Atlantic Records work, he was a commercial photographer and teacher at UCLA, the University of Minnesota and Rice University. He has won three Guggenheim Fellowships and five National Endowment for the Arts grants. In 1990, he was given the prestigious John D. and Catherine T. MacArthur Award.

Iris Giclée color print prices are roughly $1,000.00 for 8 x 10s, $1,500.00 for 15 x 15s, $2,000.00 for 16 x 20s to 20 x 24s and $3,000.00 for 30 x 30s. Please contact us for exact quotes.


---
(Click your mouse on the images below to enlarge them and see more information.)
Photographs courtesy of Fraenkel Gallery, San Francisco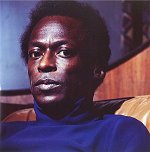 Miles Davis, 1969

| | | |
| --- | --- | --- |
| Joe Turner, 1959 | Yusef Lateef, 1967 | Roland Kirk, 1972 |
| Modern Jazz Quartet, 1961 | Ornette Coleman, 1960s | John Coltrane, late 1950s |
| Duke Ellington, 1956 | Charles Mingus, 1959 | King Curtis, 1966 |
American Musicians: Photographs by Lee Friedlander
Large 9½ x 10 book of almost 300 pages featuring hundreds of photographs of
jazz, blues, rhythm and blues, gospel, bluegrass and country and western musicians.
Published by Distributed Art Publishers, Inc.
Retail is $49.95, and our price is 20% off: $40.00. Add $8.00 for priority U.S. shipping.
(Note: due to the nature of the paper used, the dustjackets of these books show scuffing.)

Read a review of the book from Zing Magazine.


RETURN TO CONTENTS PAGE

HOW TO PURCHASE