Nicholas McCalip


We are pleased to present here in early 2005 the first one-person exhibition of Nicholas McCalip works in the gallery, although in both the gallery and the website he has attracted quite a strong following in his past three years of representation by us. His work has become increasingly ambitious while always producing a diverse portfolio. These selected works have achieved a particular level of abstract realism that gives the viewer all the elements of a traditional landscape without specifying any particular recognizable object. The landscapes then leave the viewer with only the psychological inferences or ambiguity as to what the photographs may be about.
Mr. McCalip states, "In order to avoid subject matter in these photographs, I settled upon areas of man-made engineering where earth had been either excavated or artificially built up. Treating these areas as massive sculpture I would select out my particular surface of interest like a selected canvas. Subject matter was avoided as these artificial hillsides pointed directly upwards to the sky. Surface alone became foreground to vanishing point transposed directly against sky. Surface could be weed growth inside a drainage pit, poured concrete, clay and rock excavation, or steel destined for construction. The concrete in particular could be treated either sculpturally or as a painting in the form of a blank canvas. I applied chisel marks or various paints to record how I perceived the incoming storms. It is purely incidental that I am using man-made engineering to explore the human response regarding place and the psychological impact of an absence of any natural reference point. A response to a particular photograph is then a unique experience to each viewer. The ultimate psychological impact is as intangible as the locations that these photographs fail to remotely suggest."
Nicholas McCalip was born in the Dallas area in 1973 and continues to live in the Metroplex. Besides us, he is represented by galleries in Santa Fe and New Orleans.

Prices and Sizes: (price for triptychs is triple the cost of one print in the chosen size)
9 x 13 $400.00
13 x 17 $600.00
18 x 24 $800.00
21 x 29 $900.00

(all are ink pigment prints)
---
(Click your mouse on the images below to enlarge them.)
| | | |
| --- | --- | --- |
| Untitled 15 | Untitled 243 | Cortez |


Untitled 253-255 Triptych


Untitled 269-271 Triptych
| | | |
| --- | --- | --- |
| Untitled 279 | Untitled 257 | Untitled 275 |
| | |
| --- | --- |
| Untitled 285 | Untitled 303 |


Untitled 265-267 Triptych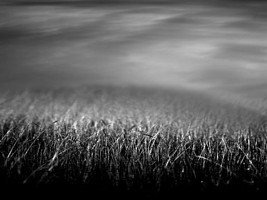 Untitled 301



Click here to see more at Nicholas McCalip's comprehensive web site.





RETURN TO CONTENTS PAGE

HOW TO PURCHASE
Footnote: "I got up the other day and everything in my apartment was stolen and replaced with an exact replica." Stephen Wright