George Tice: New Platinum and Palladium Prints


These are George Tice's outstanding, beautiful new 20 x 24 inch platinum and palladium prints. These large prints are simply breathtaking. He is a master of this printing technique, but he doesn't have the facilities to make these big sizes. These were made by a fellow master printer in Belgium. (Making these kinds of prints is extremely laborious, and the paper must be coated with the light-sensitive chemicals by hand.) There are so far 11 photographs in this group, and their editions are limited to 30. When you click on an image below, you will see the pricing, which increases as the editions sell out. We reproduced these prints as best we could, but what you see on the screen doesn't even come close to these literally breathtaking prints!


As of fall, 2009, he is now having prints made in the extremely large size of 28 x 36 inches.
Click on the images for details (not all are available that size).
George Tice is one of the best known fine-art photographers in the nation and has authored 15 books. He has been making photographs for over 40 years. His prints are in many museums including the Museum of Modern Art, the Art Institute of Chicago and the Metropolitan Museum, where he had a one-man show in 1972. The Afterimage Gallery has handled his work over 20 years.

Mr. Tice was born in 1938 in New Jersey where he still lives. His first museum sale was to the Museum of Modern Art in 1959. He has received fellowships from both the Guggenheim Foundation and the National Endowment for the Arts. His photographs have been shown all over the world.
---
(Click your mouse on the images below to enlarge them and see prices.)
| | | |
| --- | --- | --- |
| Roaring Fork River | Oak Tree, Holmdel, N.J. | Aquatic Plants #1 |
| From the Chrysler Building | Telephone Booth, 3 A.M. | White Castle |
| Hudson River Pier | Petit's Mobil Station | Ferry Slip |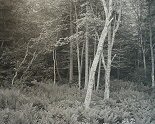 Woods, Port Clyde, Maine


Return to George Tice's Main Page

Return to Contents Page

HOW TO PURCHASE