Dallas: Some Interesting Facts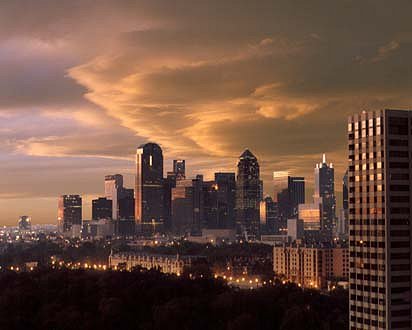 Photograph by Ellen Cotton
We created this page to give you some information about our city. You are probably familiar with the old television show Dallas with its leading character, the nefarious J.R. There probably are a few persons like him around here, but there are no oil wells and probably no ranching going on in the immediate area. Over the years, Dallas' main industries have been retailing, fashion, banking and insurance. Recently, however, Dallas has become a leader in high-tech industries, and it ranks second only to San Jose, California in the size and importance of this field. Two areas we excel in are telecommunications and computer games (Dallas is the home of Doom.)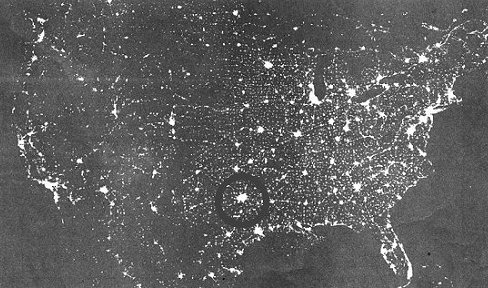 This nighttime view of the United States is one of my favorite satellite photographs
Dallas lies in a large prairie running through the center of the United States. It is fairly flat and is one of the largest cities in the world not located on a navigable river. The city was founded in the 1840s as a frontier trading post and has been fostering entrepreneurs ever since. The weather here is painfully hot in July and August with high temperatures in the upper 90s (37 C.) to over 105 degrees (40 C.), but the rest of the year is quite nice. Winter may see temperatures below 10 degrees (-12 C.), but it usually warms back up quickly. Annual precipitation is 33.7 inches (86.4 cm) per year.
At this writing, the estimated population of Dallas is around 1,300,000, and almost 5,000,000 people are in the surrounding area (including Fort Worth). Due to the character of the land and the influence of the automobile, we are rather spread out here (378.4 square miles) as you can see from the interesting chart below: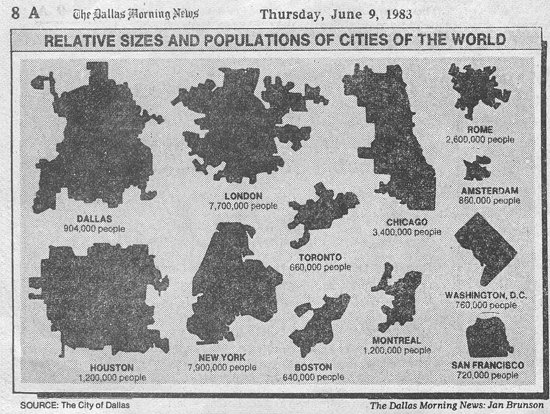 Although this chart dates back some years, you can easily see how the population of Dallas and Houston is thinned out over many square miles vs. that of some of the other cities of the world. Just as someone from, say, London would have a hard time visualizing all our open spaces, we here have difficulty visualizing a far denser population!

Some items invented in Dallas (from The Dallas Morning News: 5/6/99)
The nation's first convenience stores, the vast 7-Eleven chain, now in 18 countries, started here in 1922.
Henry Garrett invented the first car radio in the early 1920s and possibly the first automatic electric traffic light.
In 1931, Highland Park Village opened, the first shopping center with stores surrounding a central parking area.
In 1938, Hillcrest State Bank opened the first drive-up bank window.
The first integrated circuit, which became the microchip, was invented by Jack Kilby in 1958 at Texas Instruments.
The idea for the ubiquitous ATM machine came from Don Wetzel in the 1960s.
The frozen margarita was invented by Dallas restauranteur Mariano Martinez in 1971.
Inspired by his daughter's Super Ball, Dallas' Lamar Hunt, owner of the Kansas City Chiefs, coined "Super Bowl."
Barney, the lovable purple dinosaur of Public Broadcasting, comes from Dallas area, as does the smart, history-loving dog, Wishbone.

Footnote: "I took my headlights out and put strobe lights in. Now when I drive at night it looks like I am the only one that is moving." Stephen Wright