Walter W. Nelson


Walter W. Nelson has been with the Afterimage Gallery for many years. He is a self-taught artist who, besides photography, also works in the mediums of painting and sculpture. He was born (1942) and raised in Texas and has maintained studios in Houston, Dallas, New York and, currently, Santa Fe. Mr. Nelson's work has been seen in many shows and is in a large number of collections. In addition to the United States, he has photographed in South America, Mexico, Canada and Australia. He generally uses an 8 x 10 view camera and is best known for his still life photographs created with a combination of painting, sculpture and flowers. He also photographs landscapes, nudes and architecture.
---
(Click your mouse on the images below to enlarge them.)


The five color photographs below are extraordinary Iris prints on heavy drawing paper, approximately 22 x 18 inches in size, priced at $750.00 apiece in an edition of 100.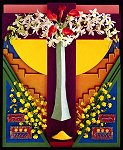 It All Happened
in a Flood, 1998




Calla Lily, 1981




Tulips, 1983


Allium/
Anthurium, 1983


Sweet Pea/
Pincushion, 1983
Click here to see the full selection of Mr. Nelson's Fleur photographs.
The five black and white photographs below are delicate platinum prints, matted to 16 x 20 inches and priced at $565.00 apiece in an edition of 25. The Calla Lily is $1,000.00 because the edition is almost sold out.



Los Luceros Mission,
New Mexico, 1995
6 x 9 inches




San Ildefonso Mission,
New Mexico, 1983
7½ x 8½ inches


Red Hot Poker, 1983
6 x 5½ inches


Calla Lily, 1981
9½ x 7½ inches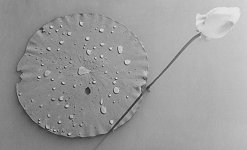 Moving to the Light, 1983
4¼ x 7 inches


RETURN TO CONTENTS PAGE

HOW TO PURCHASE