Terry Falke


Terry Falke's work is quintessentially American in both subject matter and significance. He is an observational artist who is attuned to details, incongruities and sometimes unlikely beauty in the civilized American terrain. Mr. Falke (b. 1950) received his MFA from Bard College in New York, where he studied with Stephen Shore and other prominent figures in contemporary photography.
Described by prominent museum curators as "One of the best and most underrated landscape photographers in the U.S." and as one of America's finest photographic colorists, he has traveled extensively with the same Deardorff 8x10 inch camera for 30 years. His photographs have been featured in more than 60 solo and group exhibitions in the U.S. and Europe. A partial list of the museum collections holding his work includes: the Dallas Museum of Art, the Amon Carter Museum of Art in Fort Worth, Houston Museum of Art, Harry N. Ransom Center in Austin, International Museum of Photography in Rochester, NY, the U.S. Library of Congress, Museum of Photographic Arts in San Diego, National Academy of Sciences in Washington, DC, Nevada Museum of Art, Palm Springs Museum of Art and others. Corporate collections include: the Microsoft Art Collection, Polaroid Corporation, Hewlett Packard, Pacific Telesis, Texas Instruments, and many others. His book of contemporary landscapes, Observations in an Occupied Wilderness, was published by Chronicle Books in 2006.



Prints are available in 20 x 24 inches and in 24 x 30 inches. The 24 x 30s are in editions of 25. For larger prints, please inquire. Prices on request.
Earlier Black and White Photographs
---
(Click your mouse on the images below to enlarge them.)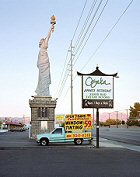 Liberty Square, Las Vegas, Nevada
| | | |
| --- | --- | --- |
| Just Stop, Texas | WWI Monument, Columbia River Gorge | Rustic Camper, Arches National Park |
| Radio Telescope | Abandoned Palm Farm, California | Tree House, West Texas |
| Hawthorne, Nevada | Handrail, Little Colorado River Gorge, Arizona | Bluff, Utah |
Page 2
---
| | |
| --- | --- |
| | Observations in an Occupied Wilderness, published by Chronicle Books, 2006, 72 plates, 10¼ x 12 inches, autographed, $50.00 + $15.00 shipping. |
Terry Falke's transcendent new book of photographs, Observations in an Occupied Wilderness, reveals the scarred beauty of our modern-day American West with bittersweet humor and tragic clarity. One of the best and most underrated landscape photographers in the United States, Falke is heir to the poetic and political imperatives of his socially-concerned brethren Robert Adams, Lewis Baltz, and Richard Misrach. What sets Falke's photographs apart is the radiant loveliness he finds even in those places most impacted by development, as if light and shadow held the memory of what once was, and a promise of what might yet be saved.

Paul Roth, Curator of Photography and Media Arts, Corcoran Gallery of Art, Washington, DC

Often playful, at times troubling, Terry Falke's photographs highlight Americans' interactions with the western landscape--definitely undermining any tendency to herald the West as an idyllic Eden. He draws important attention to our problematic notions of privacy and solitude amidst public spaces. The images walk a fine line between expectation and surprise, confrontation and questioning. His work warrants sustained looking.

John Rohrbach, Senior Curator of Photographs, Amon Carter Museum, Fort Worth, TX

In contrast to the chaotic bombardment of images by contemporary media and pop culture, Terry Falke's book offers the solitude of quietly layered photographs laced with poignant cultural observations. Reaching beyond the traditions of landscape photography and social documentation with wry humor and a unique ability to craft acute cultural and visual connections, Falke has created a body of work that reveals to the persistent viewer a world altered by quirky human behavior.

JD Talasek, Director, Office of Exhibitions, National Academy of Sciences, Washington, DC

RETURN TO HOME PAGE
HOW TO PURCHASE